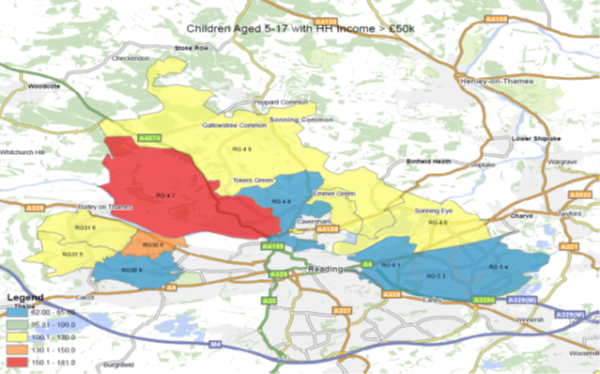 At Zoom In we understand the importance of reaching the right audience, the success of the campaign depends upon it.
To help us scientifically plan campaigns we use Experian's consumer classification tool Mosaic. Using over 850 million pieces of information, Mosaic groups consumers together based on their likely demographics, lifestyle, behaviours, and preferences to create a powerful consumer classification system.
Using this technique, we can help you understand the profile of your customers and then identify the postcode sectors in your catchment that contain the highest density of your target audience, therefore planning delivery to those that match your customer profile.
The map below shows the density of households with an income of over £50k with children aged 5-17 years old. Delivery would be planned to the postcode sectors that are red, orange and yellow, whilst the blue postcode sectors would be excluded from the campaign.
The benefits of this approach are:
-          Improved response
-          Allows you to adjust your message to match the audience
-          Reduce wastage as you will be targeting postcode sectors that will most likely benefit from your products or services.