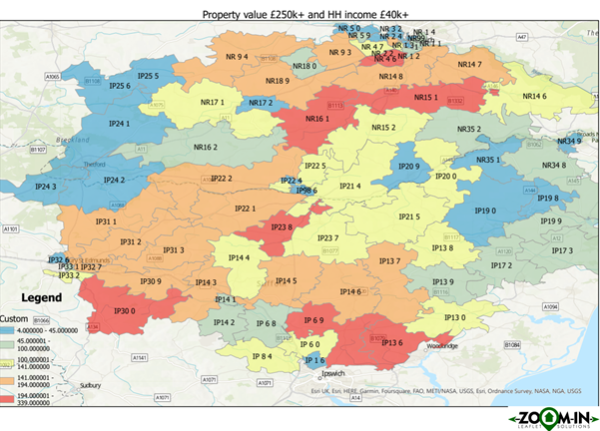 Zoom In promotes a data led approach to reach your target audience to ensure your business has the best opportunity to drive response.
Using Experian's consumer classification tool Mosaic, we scientifically profile your customers to ensure we reach households that match your audience. Using this technique enables us to identify the postcode sectors in your catchment or desired area that contain the highest density of your target audience. Therefore, planning delivery to those that are most likely to benefit from your product or service. 
For example, the map on the left shows the density of households with an income of over £40k and property value of over £250k within a 10 mile radius of the customer's store. Delivery was planned to the postcode sectors that are red, orange, and yellow as these contain a higher density of the target audience.
The client for this campaign benefited from the following:
·       Higher response rate
·       Adjusted message to match their audience
·       Minimised wastage
Talk to Zoom In to see how we can help your campaign.