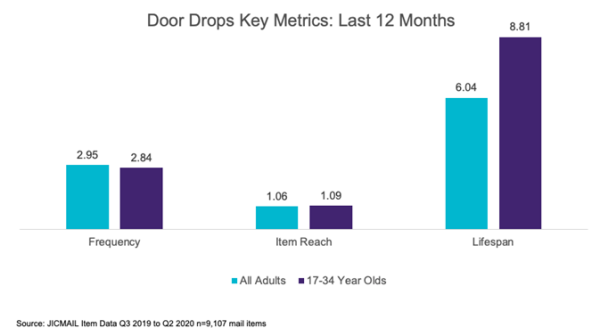 In today's digital age, there is a myth that younger people are not likely to engage in offline marketing channels however JICMAIL's data highlights door drop effectiveness in younger audience.
17-34 year olds are about half as likely as the average UK adult to receive a piece of door drop. Yet the number of times a door drop is interacted with by 17-34 year olds is very similar to the national average. Door drops in younger households are more likely to be shared and they stay in the home for much longer than other age groups, for nearly nine days on average.
The distinct difference presents new targeting opportunities for advertisers as 20% of under 24 year olds claim that door drops can change their mind about a brand than the average UK adult.
Furthermore, since lockdown door drops enjoyed a huge boost in response from young people with one third of door drops prompting commercial actions.
This is a golden opportunity for brands to reach the under-targeted younger audience to stand out on the door mat and get ahead of competitors