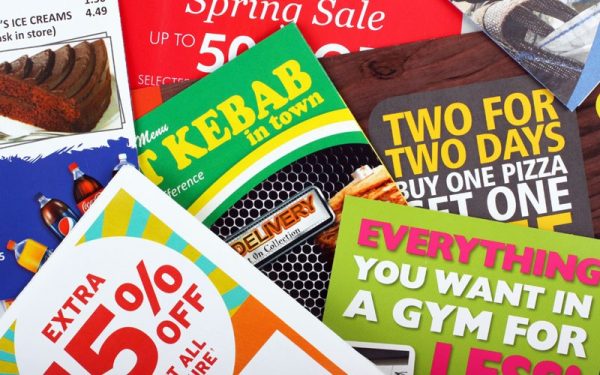 Leaflets can be the perfect way to advertise your business or service and even compliment any online advertising you have in place. Customers love to have a physical form of advertising as it makes them connect with your company. In order to create an effective leaflet then there are certain design elements you need to make sure are clear and tailored to your target audience to get your desired response.
Keep It Simple
Less is more when it comes to leaflet design. Within 3 seconds your potential customer should be able to know your company name, what you're offering and your call to action. Don't over clutter otherwise your message could get lost and you won't get the response rate you're expecting.
A Call to Action
Before designing your leaflet you should consider what you want to get out or your leaflet. Do you want people to buy your product, use your service, visit your website? Your call to action could come in the form of a coupon or your address if you want people to visit your business. If you're advertising an event, make sure to include location, time and ticket price. Include your website URL if you want to direct people to your website. Whatever information you decide to include on your leaflet, make sure the details are correct and relevant.
Be Consistent
Consider how your business appears in your other forms of marketing. Online and offline should be consistent with who you are and who you're trying to reach. Try to have font and image continuity as your potential customers are more likely to respond to a leaflet from a company they know and trust.
Quality
Don't skimp on paper quality. If you use the cheapest paper you can then you'll end up with a leaflet that looks and feels cheap. Think about how you want your customer to perceive your brand, using a higher gsm will make your business appear more professional and offer a high quality service.
Proof read!
You wouldn't want all your hard work to go to waste by sending out your leaflet with a spelling error or incorrect contact details. Once your potential customer notices a mistake in your advertising it makes your business appear less professional. Before you send your design off to print then get other people to check your design and make sure that there aren't any errors in your details.
Here at Zoom In we offer in-house design and print services as well as planning and distribution of your leaflets. If you have a design already created, we can help you choose the best paper quality and finish before we send it off to print. If you don't have a design yet we can either start from scratch or adjust one of the designs of your choice from the Leaflet Library to better fit your business. We only want to advertise your company in the best possible way so you can trust that Zoom In will provide you with a reliable high quality service. To find out more about our design and print services, contact one of our Sales Executives on 0845 1999 830.