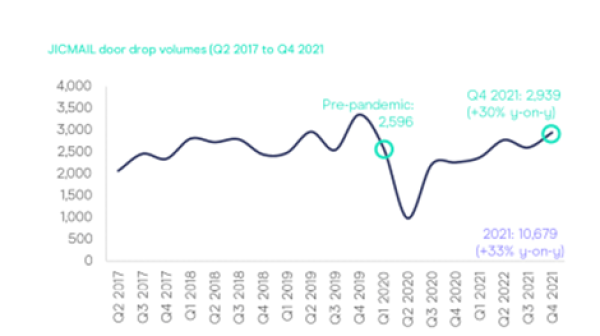 The DMA have released their latest Annual Door Drop report, providing valuable insight in our sector.
Door drop volumes have continued to climb throughout 2021 and full-year numbers reveal that they were up 33% year-on-year; a clear indication of a recovery following the pandemic.
Also, according to JICMAIL, the average door drop is shared with 1.05 people per household and the average person interacts with it 3.1 times highlighting the reach and impact door drop has.
Another interesting and very relevant trend illustrates that the proportion of door drop driving online effects is growing 50% year-on-year. This shows the effectiveness of door drop in amplifying digital media channel by boosting engagement and awareness.
Overall, the data shows encouraging signs of recovery and door drop a key example of how offline media can drive online response and points towards the importance of using door drop in your marketing mix.